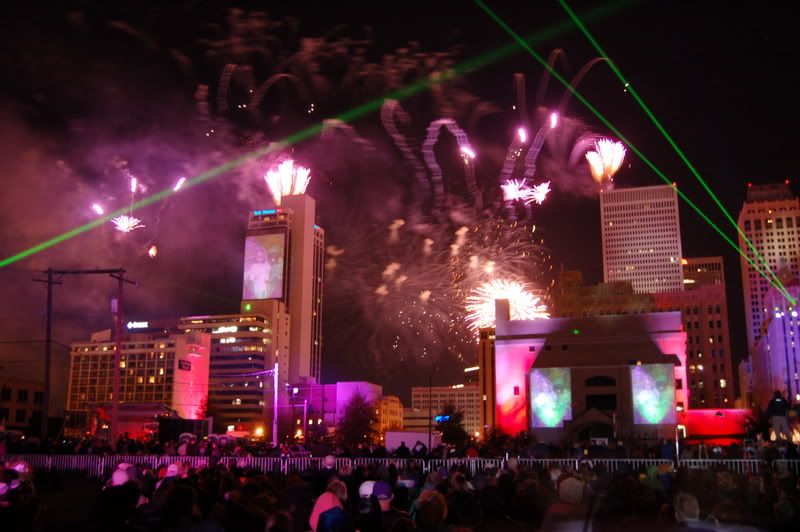 Ninety-ninth birthdays don't come along all that often, so what excuse would I have for missing one? Especially if it's the 99th birthday of the entire state of Oklahoma?
This past weekend marked the kickoff of the state's year-long centennial celebration. To get things started properly, a giant fireworks and multimedia show was held in downtown Tulsa.
A guidebook I read dismissed Tulsa's downtown as "dowdy." I, personally, think that the guidebook writer had smoked some really wicked crack.
Tulsa's downtown boomed with the discovery and exploitation of various oil fields around the area. That made millionaires of men, and fueled the growth of the city on the Arkansas.
Much of that growth came in the golden age of art deco architecture. Oil, money, pride and ego all combined to build some truly wonderful skyscrapers in downtown Tulsa, which serve as brilliant reminders of the art deco era. Even churches got into the act, with Boston Avenue United Methodist Church standing on the far eastern end of downtown as an eye-catching delight. The church looks like something of a cross between the Emerald City in "Wizard of Oz," and the city from Fritz Lang's "Metropolis."
Anyway, back to the point, under a chilly sky, lasers, fireworks, and music helped light the candle for the state's birthday party. All the cold was made more tolerable, by the way, with the help of a monstrous cup of QuikTrip Chai Latte.